The fifth heat of the 2014 Heavyweight Championship. Just like Heat C this heat contained three fighting robots however unlike Heat C this heat contained the house robot Goliath.
Competitors
Edit
The Battle
Edit
The Battle begins with TX-109 attacking Leveller 2 MK4 with Manta following the two. Manta swiftly get underneath TX-109 a chucks it out of the arena, Leveller 2 is tipped over in the
process. Leveller 2 tries to flip Manta and fails, Manta gets underneath and charges towards the arena side wall and flips Leveller 2 out of the arena. it was over in 0:17 seconds.
Winner: Manta
Watch here: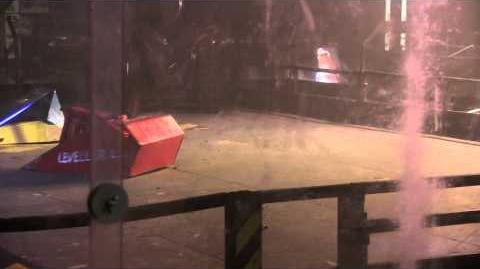 Ad blocker interference detected!
Wikia is a free-to-use site that makes money from advertising. We have a modified experience for viewers using ad blockers

Wikia is not accessible if you've made further modifications. Remove the custom ad blocker rule(s) and the page will load as expected.