The Sixth heat of the 2014 Heavyweight Championship. This heat once again featured only two robots and the house robot Goliath from Robots Live! This heat also featured the featherweight robot, Gabriel. Interestingly The Saint would appear in the following heat to come.
Competitors
Edit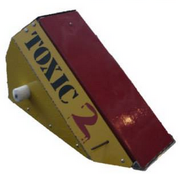 Vs
The Battle
Edit
Toxic 2 quickly got behind Gabriel and charged straight towards the arena wall and chucked it out. Gabriel's wheel was caught by the Arena wall but it was no use. The battle ended as quickly as it started.
Winner: Toxic 
Watch here
:
Ad blocker interference detected!
Wikia is a free-to-use site that makes money from advertising. We have a modified experience for viewers using ad blockers

Wikia is not accessible if you've made further modifications. Remove the custom ad blocker rule(s) and the page will load as expected.