The Seventh heat of the 2014 Heavyweight Championship. This featured two robots competiting and the house robot Goliath from Robots Live! This featured The Saint who had previously entered their featherweight Gabriel in the previous heat.
Competitors
Edit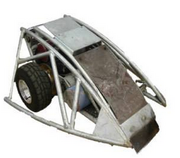 Vs
The Battle
Edit
Both robots charge at each other. The Saint attempts to hit Beast with its sword, Beast however is unhurt. Saint runs away with Beast chasing after it. Beast tries to get under neath it however Saint's body built made this almost impossible. Eventually Beast gets hold of Saint and procceds to flip it out of the arena.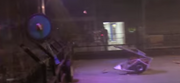 Winner: Beast    
Watch here: 
Ad blocker interference detected!
Wikia is a free-to-use site that makes money from advertising. We have a modified experience for viewers using ad blockers

Wikia is not accessible if you've made further modifications. Remove the custom ad blocker rule(s) and the page will load as expected.