The final heat from the 2014 Heavyweight Championship . This heat featured two robots and the house robot Goliath from Robots Live! .This is also one of two heats in this Championship that contains a Iron-Awe robot the previous one being Iron-Awe 5 .
Competitors
Edit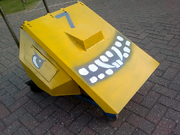 Vs 
The Battle
Edit
The battle begins with both robots feeling eachother out and not attacking one another. TR2 attempts to flip Iron-Awe 7 but it gets away before it could be flipped. After a short chase, TR2 gets a flip on Iron-Awe 7 tipping it over. Iron-Awe self rights but a humiliating cost, Iron-Awe 7's powerful flipper caused it to literally flip itself out of the arena.
Winner: TR2
Watch here
: 
Ad blocker interference detected!
Wikia is a free-to-use site that makes money from advertising. We have a modified experience for viewers using ad blockers

Wikia is not accessible if you've made further modifications. Remove the custom ad blocker rule(s) and the page will load as expected.