Heat D of the 2007 UK Championships was the fourth heat of the 2007 UK Championships held from the 28th-31st August at Hafan Y Mor Holliday Park in Wales, It was the fourth heat to determine which would be the fourth machine through to the finals later on in the week. The 3 competing robots fought out in battles in a league system to try and earn points to go through. The battles of the heat took part on the 28th August 2007.
Competitors
Edit
The following three competitors participated in the heat
Tanglefoot Vs Tiberius 4
Edit
Both robots were off, but Tanglefoot immediatly broke down. Tiberius 4 took advantage of this by placing Tanglefoot on the arena flipper which turned it over. Tiberius 4 then pushed the helpless Tanglefoot into the pit.
Winner: Tiberius 4
Beast (8) Vs Tanglefoot
Edit
A moment after the battle had begun, Beast got underneath and flipped Tanglefoot over onto its side where it couldn't self-right. Beast waited a few seconds before attempting to flip Tanglefoot out of the arena which had failed. Beast then tried to flip Tanglefoot out the arena again, this time it worked and Beast had won.
Winner: Beast
Beast (8) Vs Tiberius 4
Edit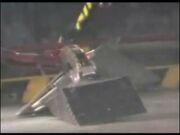 Tiberius 4 tried to get a nip on the front of Beast, but the 8th seed maneuvered away easilly. Beast chased Tiberius 4 to get a flip on it, but Tiberius 4 was too fast and ran away. Tiberius 4 then grabbed Beast crushing into it. Beast tried to flip itself away, but Tiberius 4 had a tight hold of it. After letting go of Beast, Beast could only drive on one wheel after the damage done by Tiberius 4 and lost
Winner: Tiberius 4
Heat D Winner: Tiberius 4