Heat B of the 2011 UK Championships was the second heat of the 2011 UK Championships held from the 23rd-24th April at the Premiere Piazza space at the O2 Arena in London. The 4 competing robots fought out in one 4 way battle. The winner would go through, and the robot that came second would go to the losers melee. The heat was held on the 24th April.
Competing Robots
Edit
Batterbot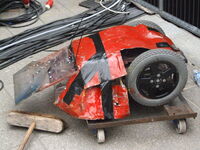 Weight: 60kg
Cost: £45.00
Top Speed: 8mph
Armour: 1mm Steel
Motors: 2 x Wheelchair Motors
Batteries: 2 x 24v Nicads
Weapons: Electric Lifter
Team: Alex Marler
From: Heanor, Derby
Envy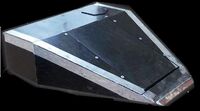 Weight: 100kg
Cost: £4500
Top Speed: Unknown
Armour: Hardox & Titanium
Motors: Mag Motors
Batteries: 24v Nicads
Weapons: Front-Hinge Flipper
Team: Shane Swan, Jason Marston & Liam Bryant
From: Mablethorbe, Lincolnshire
Ripper Evo (Seeded 2nd)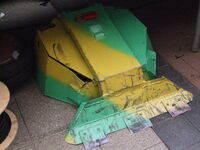 Weight: 98kg
Cost: £2000
Top Speed: 12mph
Armour: 3.2mm Hardox
Motors: Bosch 400s
Batteries: 3 x 30v NiCad Packs
Weapons: Flipper
Team: John Findlay & David Findlay
From: Arnold, Nottingham
Terrorhurtz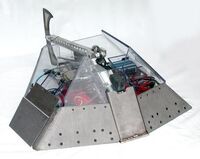 Weight: 99.7kg
Cost: £2500
Top Speed: 14mph
Armour: 12mm Polycarbonate & 6mm Stainless Steel
Motors: 2 x 1800w Bosch
Batteries: 4 pack of 33v A123 Lithium Cells
Weapons: Compressed CO2 Powered Axe
Other: Double UK Champion 2004 & 2009
Team: John Reid & Nick Lynch
From: Oxford
The Fight
Edit
The fight started off with Envy getting under Terrorhurtz immediatly, pushing it towards the arena wall and throwing it over the fence disposing of the former UK Champion instantly. Meanwhile Ripper Evo attacked Batterbot causing its armour to disintegrate and fall off before also being flipped out of the arena by Ripper Evo. Envy then chased Ripper Evo for a bit before Ripper retaliated by flipping Envy in a failed attempt at getting it out of the arena. Envy self-righted in a spectacular way before getting flipped over again near the ropes of the arena wall where Team Buds robot struggled hugely to recover. After a few seconds, Ripper Evo came in and knocked Envy back onto its wheels before flipping it all over the arena. Envy self-righted every time and did well to hold on, even self-righting out the pit. But when the fight ended, the judge went in favour of Ripper Evo.
Heat B Winner : Ripper Evo