Heat C of the 2011 UK Championships was the third heat of the 2011 UK Championships held from the 23rd-24th April at the Premiere Piazza space at the O2 Arena in London. The 4 competing robots fought out in one 4 way battle. The winner would go through, and the robot that came second would go to the losers melee. The heat was held on the 24th April.
Dantomkia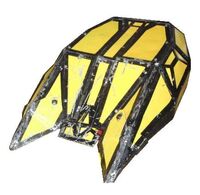 Weight: 100kg
Cost: £1200
Top Speed: 13mph
Armour: 3mm Hardox armour
Motors: 750w Bosch GPA
Batteries: 3 x 8 cell A123 Packs
Weapon: Full Pressure Flipper
Team Members: Colin Harriman, Paul Harriman & Ian Harriman
From: Barnet, London
Merlin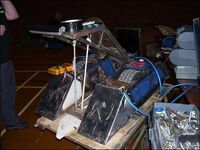 Weight: 99.7kg
Cost: £2500
Top Speed: 10mph
Armour: Hardox & Titanium
Motors: Bosch 750s
Batteries: 3 x 24v 3Ah NiCad Botpacks
Weapon: CO2 Full Pressure Flipper
Other: Can run inverted and self-right
Team Members: Alan Young
From: Whitwick, Leicestershire
Iron-Awe 6 (Seeded 3rd)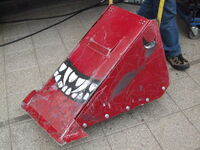 Weight: 97kg
Cost: £3000
Top Speed: 12mph
Armour: 3mm Hardox Armour
Motors: 2 x Bosch 12v run @ 24v
Batteries: 3 x 30v Ni Cad Packs
Weapons: Flipper
Team Members: Gilbert Grimm & Robert Grimm
From: Wisbech
Stinger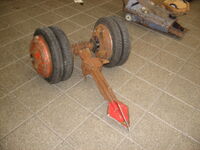 Weight: 80kg
Cost: £2000
Top Speed: 15mph
Armour: 4mm Steel
Motors: 2 x 750w Bosch
Batteries: 2 x 24v Nicad Packs
Weapons: Stinger Tail
Team Members: Pete Lale
From: Worksop, Nottingham
The Fight
Edit
Before the fight, Stinger was announced to be having mechanical faults and despite best efforts to get it up and running, it couldn't be repaired in time forcing it to withdraw. This left the battle as a 3-way melee
All three robots circled around trying to bring their weapons into contact with one another, Merlin got the first flip of the fight on Dantomkia, but the yellow and black robot self-righted and carried on. Only to be pursued more by Merlin accross the arena floor and then got stacked against the arena wall, but was knocked back onto its wheels again accidentally by Iron-Awe 6 in a failed attempt at flipping it out of the arena. Dantomkia was flipped again into Major Damage but escaped the house robots clutches before being thrown very high in the air by Iron-Awe 6 into the surrounding cables. Dantomkia then found itself having problems with self-righting as the arena wall was in the way and couldn't get itself off. Meanwhile, Iron-Awe 6 hurled Merlin through the air, but Merlin retaliated by flipping the 3rd seed over near the arena wall where in an attempt to self-right, flipped itself out of the arena. Dantomkia meanwhile was picked up by Major Damage like a toy and was nearly down the pit after being dropped onto the edge missing it and got away. Merlin lifted Major Damage up from behind nearly getting it in the pit and was attacked by the house robot in the last 10 seconds before the fight came to an end. Merlin was declared the winner after Dantomkia had been immobilised for a long time.
Heat C Winner : Merlin