Heat H of the 2011 Heavyweight UK Championships was the eighth heat of the 2011 UK Championships held from the 23rd-24th April at the Premiere Piazza event space at the O2 Arena in London. The four competing robots fought it out in a four-way melee. The winner would go through and the robot that came second would go into the loser's melees. The heat was held on the 23rd April.
Competing Robots
Edit
The below robots participated in the heat.
8465T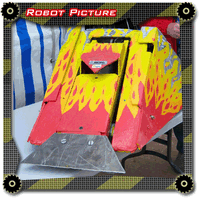 Weight: 100kg
Cost: Unknown
Top Speed: 10mph
Armour: 8mm ally & leather
Motors:

Bosch 400 modified
Batteries: A123s
Weapons: Full Pressure Flipper
Team Members: John Lear & John Lear Jnr
From: Lichfield, Staffordshire
Disturbed
Weight: 100kg
Cost: £1500
Top Speed: 13mph
Armour: 4mm Hardox & 20mm HDPE armour
Motors: 750w Bosch GPA
Batteries: 3 x 8 cell A123 Packs
Weapons: Full Pressure Flipper
Team Members: Andy Steels, Zack Steels & Luke Steels
From: Barnet, London
Scorpion
Picture
Coming
Soon
Weight: 98.5kg
Cost: £3000
Top Speed: 12-15mph
Armour: 4mm Hardox
Motors: 2 x Bosch 750 Drive Motors, 1 LEM for weapon
Batteries: 5 x 24v NiCad 3000s
Weapons: Electric Axe
Team Members: John Bell, Pip Bell & Sarah Bell
From: Farnham, Surrey
Toon Raider (Seeded 8th)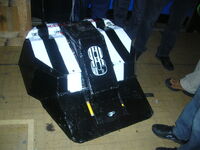 Weight: 100kg
Cost: £3000
Top Speed: 15mph
Armour: 4mm & 3mm Hardox
Motors: 750w Bosch
Batteries: 2 x 36v Nicad Packs
Weapons: Low Pressure CO2 Flipper
Team Members: Clive Brown, Wendy Brown & Alex Brown
From: Gateshead
The Fight
Edit
As activate was called, all robots were off with Toon Raider looking for a moment to attack Disturbed, but was targetted immediatly by Beast who hurled it onto its back, and from then on, the eighth seed showed no signs of self-righting. Beast had also flipped itself over where it was stuck on its back end, but recovered and tried to flip Scorpion, but flipped itself over again only to recover again. Scorpion landed a few axe blows on Disturbed and Beast who flipped itself over again and this time couldn't seem to get itself down. Meanwhile, Major Damage picked up Toon Raider, paraded it around the arena and dropped it into the pit. Beast got knocked back onto its wheels by Scorpion and after Disturbed missed its flips on Scorpion, it was flipped over by Beast and also couldn't self-right. Scorpion axed away at the underbelly of Disturbed while Beast tried to flip Scorpion, but again flipped itself on its back end and immobilised it there. Scorpion came in and axed away at the two immobilised robots, one of the attacks had righted Beast and it carried on. Whilst Beast and Scorpion chased each other, Major Damage picked Toon Raider up out of the pit and dropped it outside the arena. Beast flipped Scorpion over in the last 10 seconds where it had trouble self-righting, but because it wasn't immobilised for 30 seconds, it won the fight on a judges decision on aggression.
Heat H Winner : Scorpion