Heat I of the 2011 Heavyweight UK Championships was the ninth heat of the 2011 UK Championships held from the 23rd-24th April at the Premiere Piazza Event Space at the O2 Arena in London. The four competing robots fought it out in a four-way melee. The winner would go through, and the robot that came second would go into the loser's melees.
Competing Robots
Edit
The four robots competed in the heat
Big Nipper (Seeded 9th)
Weight: 100kg
Cost: £3000
Top Speed: 15mph
Armour: High Grade Titanium
Motors: 5.5hp Magmotors for drive and 1hp motor for weapon
Batteries: 3 x 36v Nicads
Weapons: Ramming, Lifting & Crushing Weapon
Team Members: Mark Lumb, Graeme Daweson & Glyn Daweson
From: Nelson
Gravity 5.1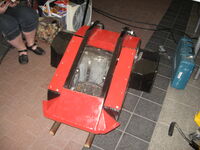 Weight: 100kg
Cost: £2000
Top Speed: 12mph
Armour: 12mm Hardox
Motors: 2 x 750w 24v Bosch Motors
Batteries: 3x 12v PBQ 9ah SLA
Weapons: The Flipper
Team Members: Jeroen Van Lieverloo & Kirsty vd Brink
From: Oss, Holland
St Hammer
Picture
Coming
Soon
Weight: 100kg
Cost: £1000
Top Speed: 11mph
Armour: ARM steel, 20mm UHMWPE and 10mm Conveyor Belt
Motors: Bosch 750w
Batteries: 2 x Haze 12v 18mA SLA's
Weapons: Sword, Sledgehammer, Pickaxe, Big Mallet
Other: It can escape from the pit!
Team Members: David Weston
From: Oxfordshire
Toxic 2
Weight: 100kg
Cost: £2500
Top Speed: 16mph
Armour: Hardox
Motors: 2 x Bosch 750w
Batteries: Custom 32.4v A123 Cells 9.6 amps
Weapons: Full Pressure Flipper
Other: 2.4ghz radio and watty 360 speed controller
Team Members: Terry Miles, Toby Miles, Elaine Miles and Natasha Miles
From: Fakenham, Norfolk
The Fight
Edit
Before the fight it was revealed that due to technical issues, Gravity 5.1 had to pull out leaving the other three to fight in a three-way melee instead.
The fight started as both Big Nipper and Toxic 2 hit St Hammer who bounced away. St Hammer started spinning around to defend itself from Toxic 2. It worked so Toxic 2 left it alone and attacked Big Nipper only to come back on St Hammer again and this time threw it out of the arena. The two remaining robots circled around each other trying to get underneath the other. Big Nipper managed to lift Toxic 2 twice, but Toxic 2 got off its claws and retaliated flipping it against the arena wall where it got off only to be flipped into the ropes of the arena again, thanks to another powerful flip by Toxic 2. Big Nipper then got its claws underneath Toxic 2 and flipped it on its side near the arena wall, but the yellow wedge-shaped robot self-righted. Big Nipper flipped Toxic 2 again, but Toxic 2 self-righted and fought back flipping Big Nipper 5 times around the arena. The fight went to a judges decision and the judge went in favour of Toxic 2.
Heat I Winner : Toxic 2